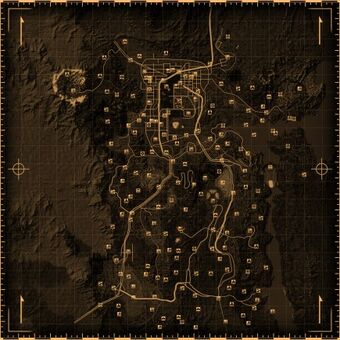 The Mojave Wasteland is the land surrounding New Vegas, stretching from Goodsprings to Hoover Dam. This is home to many wild animals, factions, and cities, including the City of Vice itself,
New Vegas
. This desert is largely barren, as it was before the war, and was only hit by nine nuclear missiles thanks to Mr. House's defence system atop the
Lucky 38 Hotel & Casino
. Throughout the Mojave many factions and small communities have made shelter in Pre-War Iconic places such as the Boomers in Nellis Air Force Base, the NCR at Hoover Dam, the Bison Steve in Primm and many more.
Known Towns
Edit
All items (5)